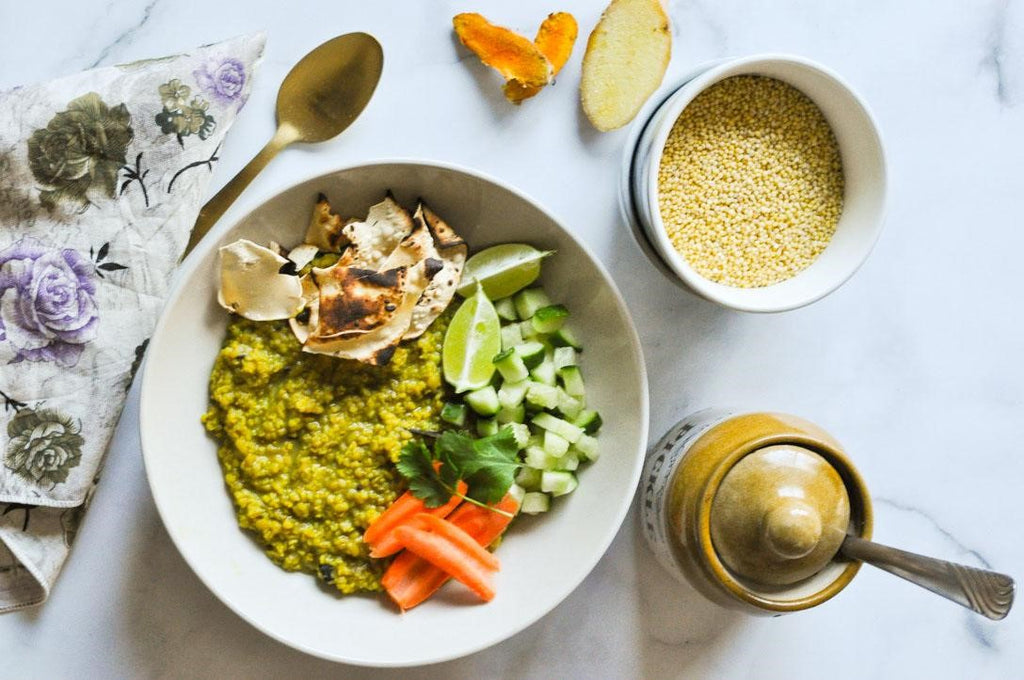 "Food blogger Soma Sengupta has created absolutely delicious, healthy and super simple recipes using Shastha Millets Adai batter and Foxtail Millets grains. Her blog https://www.myfridayfoodswings.com/ is an amazing compilation of yummy and delicious authentic recipes.
As they say, food is medicine and in ancient India, the Ayurvedic classic convalescing diet included a Khitchari since ancient times. It is prescribed in Ayurveda even today as a part of the Panchakarma which is the classic Ayurvedic mind-body cleanse to strengthen your basic constitution and immunity. The Khitchari is a meal which is power packed with nutrition and easy to digest. 
I have replaced rice with Millets and amped up the health quotient even more. Millets are a super grain with enormous benefits. It is low-glycemic, rich in protein and naturally gluten free. The millets khitchari packs in even more nutrition than the rice based one. Also, the use of fresh Turmeric and Ginger makes this dish even healthier and satisfying. 
Enjoy trying the recipes!"
 Ingredients
Yellow Mung Dal – ½ cup
Millets – ½ cup
Vegetable Oil – 2 tbsp
Bay Leaf – 1
Black Mustard Seeds – 1 tsp
Asafoetida – 1 pinch
Whole Cumin Seeds – 1 tsp
Dry Red Chilies – 2 (optional)
Turmeric root – ½ inch, washed and peeled
Ginger root – ½ inch, washed and peeled
Ghee – 1 tbsp
Lemon Juice – 2 tsp
Cilantro – 1 tbsp, finely chopped
Direction
Wash and soak the mung dal and millets in two separate containers for 30 mins.
In a pan, heat the vegetable oil.
Add bay leaf, asafoetida, mustard seeds, cumin seeds and red chilies. Let it sputter and get fragrant.
Drain the mung dal and millets and add it to the pan. Add salt and stir.
Alongside, grind the turmeric and ginger in a mortar pestle. Throw that in the pan and stir everything together for good 3-4 mins.
 Add 2 cups of water and let it come to a boil. Now on a medium flame, let the khitchari simmer for 20 mins. Add 1/3- 1/4 cup of water if needed. Take a few grains out of the khitchari and mash between your fingers to test if it is cooked.
The mixture should be mushy. Once done, add the lemon juice and ghee. Stir it in along with the cilantro.
Check the seasoning and adjust if necessary. Remove from stove and serve alongside a fresh salad of cucumber, carrots and some roasted poppadums or papad.
 Online Order from:https://shasthaonline.com