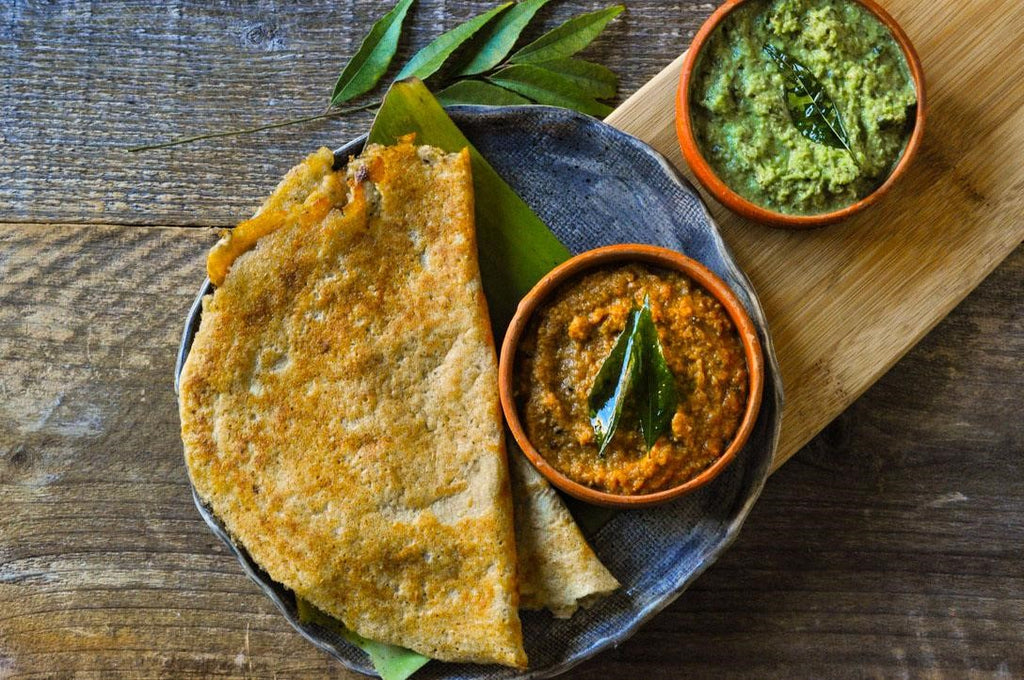 Food blogger Soma Sengupta has created absolutely delicious, healthy and super simple recipes using Shastha Millets Adai batter and Foxtail Millets grains. Her blog https://www.myfridayfoodswings.com/ is an amazing compilation of yummy and delicious authentic recipes.
Enjoy trying the recipes!
MULTI MILLETS ADAI
Being a working mom, very often I don't have time to make things from scratch. Yet, I want to give nutritious homemade meals to my family. And the Shastha batters are a blessing. Made from the best ingredients, they are naturally fermented and do not contain any artificial ingredients. Millets are an indigenously grown super grain in India. By replacing millets for rice in these batters, Shastha Foods have kicked things up a notch.
Low glycemic, high protein and completely gluten-free, the Shastha batters are a dream come true for anyone looking to add plant based superfoods in their diet. And the nutty, tangy taste of millets is something you will get addicted to. Finally, there is something that is healthy and delicious.
RECIPE:
1. Multi Millets Adai
Ingredients
Shastha Multi Millets Adai Batter – ¼ cup per Adai
Vegetable Oil
Direction
Heat a nonstick skillet.
Dip a paper kitchen towel in some vegetable oil and wipe the skillet with it to grease it. Alternatively, you can use Pam spray too.
Add ¼ cup of Shastha Multi Millets Adai batter and spread it out thin like a crepe with the back of your spatula. Make sure to do this swiftly so that the batter is spread uniformly before it starts to cook.
One minute into it, add a little vegetable oil along the edges. You will see the edges crisp up and get cooked faster than the center. 
Wait until the center is cooked. The whole thing takes about 2-3 mins. Slowly get your spatula underneath the adai and loosen it from the skillet.
If required flip it and cook on the other side too.
2. Red Tomato Garlic Peanut Chutney
Ingredients
Tomatoes – 3
Garlic – 2, big cloves
Dried Red Chilies – 1
Tamarind pulp- 2 tsp
Salt – To Taste
Peanuts – ½ cup
Mustard Seeds – 1 tsp
Curry leaves – 4-5
Vegetable Oil – 2 tbsp
Direction
Soak the red chili in hot water for 20 mins.
Rub some vegetable oil on the tomato and roast on an open flame till they get charred. This takes anywhere between 4-5 mins.
Alternatively, put them under the broiler for 4-5 mins. Take care to flip them halfway.
Let it cool. Remove the charred skin, and cut into pieces.
In a pan, heat 1 tbsp of vegetable oil. Add peanuts, tomatoes, hydrated red chili, tamarind pulp and salt. Stir and cook for 3-4 mins. Let it cool.
Once cooled, put it in a food processor and puree it 
In another pan, heat another tbsp of vegetable oil. Add curry leaves and mustard seeds. Let it sputter 
Pour in the pureed mixture and cook for 2-3 minutes till the consistency is that of a chutney.
Taste for salt and adjust if necessary. Serve alongside Adai or Dosas.
3. Coconut Cilantro Chutney
Ingredients
Cilantro – 1 bunch
Coconut – 1 cup, grated
Green Chilies – 2
Ginger – ½ inch, washed and peeled
Salt – To Taste
Vegetable oil – 2 tbsp
Mustard Seeds – 1 tsp
Lemon juice – 2 tsp
Direction
Wash the cilantro and the green chilies and throw it in the food processor with ¼ cup of water and the grated coconut, ginger and make a puree.
In a pan, heat a tbsp of vegetable oil and add the mustard seeds.
Add the pulsed mixture and keep stirring and cooking.
Add salt to taste. Cook for 3-4 mins till the chutney reaches the desired consistency.
Add lemon juice, taste for salt and adjust if necessary. Serve alongside Millets Adai.
Online Order from : https://shasthaonline.com